Print materials
Starfoil offers a wide range of make-ready materials to help you reduce make-ready time on hot stamping projects:
Toggle Hooks, Toggle Keys and Toggle Bits
The best system available for locking and registering hot stamping and embossing dies into position on honeycomb plates. The hooks are available in 5 standard sizes: 0, 1, 2, 3E and 4. We also supply keys and spare bits for fastening the hooks.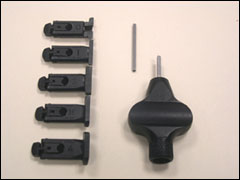 Make-ready materials
Starfoil offers make-ready materials to suit every job:
• Pertinax
• Presspan
• Epoxy glass board
• Yellow cover board
• Rubber Printbase
• SuperPress blanket
• Cork sheets
• Nylon sheets
As well as various materials for easy die set-up, such as:
• Die mounting tape
• Die cleaning sticks

The material you are looking for is not listed? Please do not hesitate to contact us for information!
Starfoil Nieuwsbrief
Starfoil Technology Netherlands bv
Gompenstraat 7
5145 RM Waalwijk
Nederland
Tel. +31 (0)416 320177
Fax +31 (0)416 650354
E-mail:
info@starfoil.nl
Romeyn invests in Starfoil hot stamping machine